---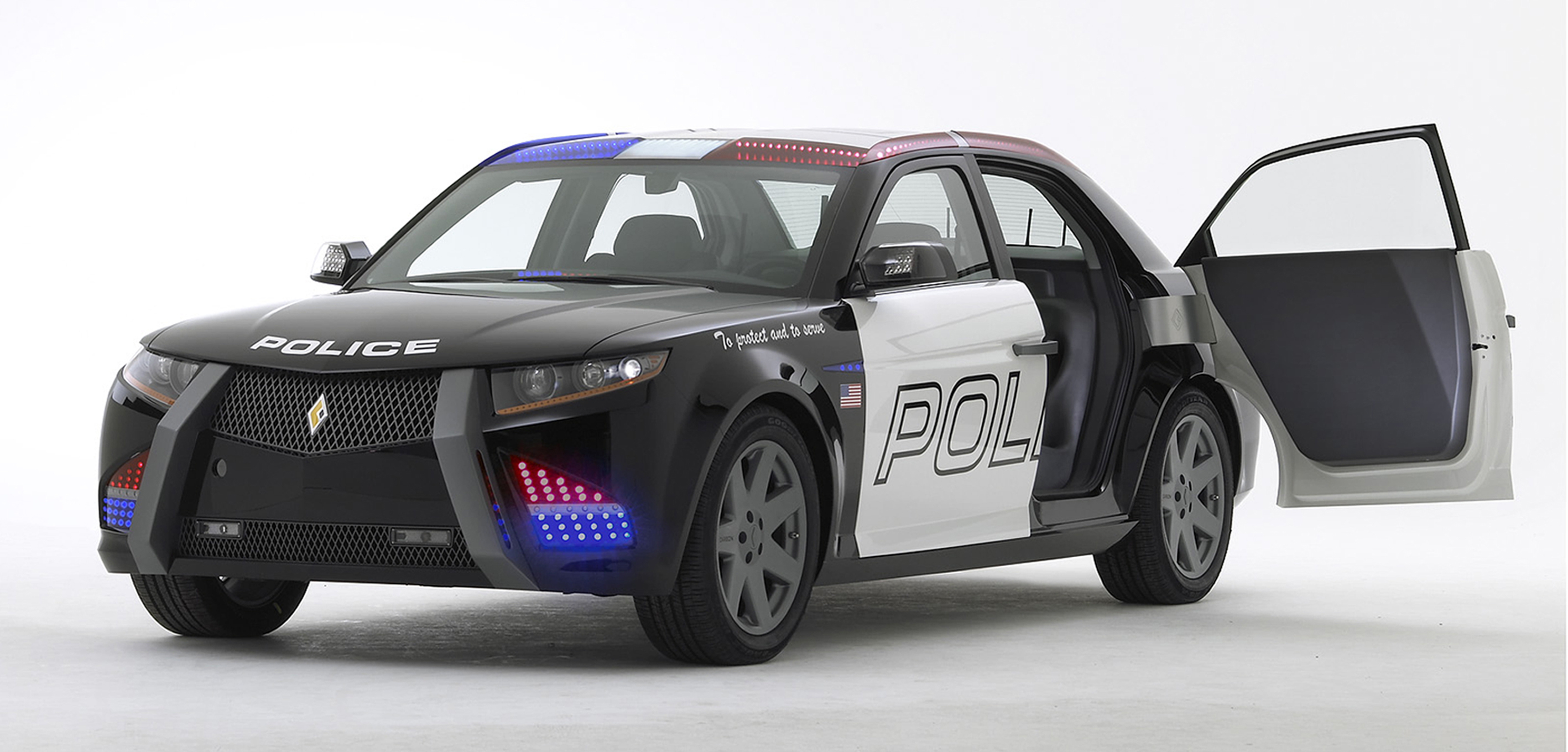 Recently, I read some sad news, Carbon Motors has folded. I can't say I'm surprised. Starting a car company, especially a niche car company is hard. It is sad because E7 concept seemed really thought out, and that's what I liked about it. I'm a bit disappointed I didn't write more about Carbon Motors three years ago when they first showed up on my radar. The E7 was was billed as the only purpose built police car in the world. The front seats had cutouts for utility belts and a sucky to blow cool air on the driver's neck. The rear seats had suicide doors and seatbelts rigged with the latches records the outside so that officers didn't have to lean over prisoners when securing them in the back. The car also was supposed to come full of gadgets like nightvision cameras and NBE detectors (no doubt to enable police departments to offset the cost of the vehicles through antiterrorism grants).
Apparently getting enough orders and/or bringing the manufacturing cost down for profitability became a problem for Carbon, because they eventually ditched the patrol car, and started shopping around a rather boring paddy wagon.
Sadly, Carbon Motors's online presence is completely gone, save for the wayback machine.
A salvaged picture of the paddy wagon is after the jump.
---
---
Dutch designer and V2_ collaborator, Anouk Wipprecht and Austrian hacker Daniel Schatzmayr (thingiverse twitter) dress features a hexpod perched around the shoulders of wearer, or perhaps it's a dress with tripod epaulets. Normally the legs simply slowly wave, but when something triggers the proximity (sonar?) sensors, the legs suddenly pull in tight, as if the dress has become scared.
---
The "Intimacy" clothing line is an on going project about how people reveal themselves to others. The clothes feature panels that can fade from opaque to transparent by applying an electrical current. As Daan Rosengaarde put it in a recent interview, "With some people you want to show more and some people you want to show less. We thought it would make complete sense that the dress would be proactive in that: either you have control or you lose control." To this end, sensors in the clothing monitor the wearer's heart rate and turn the dress transparent as the rate increases.
The first version of this dress was designed back in 2009 by Maartje Dijkstra along with V2_Lab. Building on this work, Intimacy 2.0 was designed by Anouk Wipprecht in 2011. Studio Rosengaarde is currently accepting proposals for version 3.0, which will feature men's suits that turn transparent when the wearer lies.
---
I've been strongly considering making a barbot (a.k.a. a drinkbot), even thought don't usually drink at home. I haven't given much thought to its cosmetics, instead I've been focusing on mechanics of the bot. I figure, the mechanics will dictate the form, and if one sprinkles enough LEDs on it, can look look fine.
---
Bug fix regarding tiling images on a single display in multidisplay setups.
---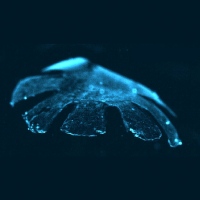 Janna Narwoth, advised by Kit Parker at Harvard, created a jellyfish mimic from the cardiac muscle cells of a rat. (Video after the jump.) Copying the structure of Moon Jellies, the cardiac muscle cells were grown so that they were aligned into ring shape on a sheet of polydimethylsiloxane. When electricity is applied, the muscle cells contract, deforming the ring into a bell shape. When the electricity us removed, the cells relax, and the natural elastic properties of the substrate reflatten the disk. Examining the fluid dynamics, the mock jelly not only propels itself, but also creates a counter vortex that drives particles up and into the center of the bell, just like real jellyfish. The researchers hope to apply this technology as a tested for examining the effectiveness of certain cardiac drugs.
---
I just finished watching Porn Star: The Legend of Ron Jeremy. It's a perfectly fine documentary, but didn't really tell me anything I didn't already know. Yes, Ron Jeremy is perhaps the most famous porn star. Yes, he doesn't look like a porn star. Yes, he wants to be a mainstream actor. Yes, he's beloved. All of this has been covered before. The one thing I did find interesting was Ron Jeremy's "phone book."
He carries with him a binder of loose leaf paper that is haphazardly covered with names and phone numbers. It's organized by location of the person recorded. In the film, he reveals that some of the pages are dedicated to:
New York City
Los Angeles
Other US locations
International
Radio Stations
Now a guy keeping all of his phone numbers scribbled on pages in a binder isn't that interesting, but what I did find interesting was that he linked various people in the together into a social graph. Different numbers are annotated with labeled arrows form one number to another. He uses this information to place the name and number in context. Now that is something I haven't really seen before. Yes, Apple AddressBook.app &endash; and presumably others &endash; has the ability to to add fields like "spouse", "friend", and "child", but these aren't links, just additional text fields. It seems like allowing a user to to crawl their personal social graph might be a useful feature for address books. Even if it isn't used often, it doesn't necessarily add a lot of UI overhead.
---
Caleb Larsen's "A Tool to Deceive and Slaughter," sells itself on eBay every week. Every ten minutes, the microcontroller inside the the acrylic box wakes up and checks connects to a server that then checks eBay for an active auction. If none exists, then the server creates one. Each owner agrees to keep the work connected to the Internet at all times, and to set the starting price at "market expectations."
Current price: $7500.
Larsen says his work represents the temporary nature of ownership, and draws form Robert Morris's "Box With the Sound of Its Own Making", a wooden box that contains an audio recording of the carpentry work done to construct the box, and Jean Baudrillard's ideas on art auctions
via WiRED Wired UK
---